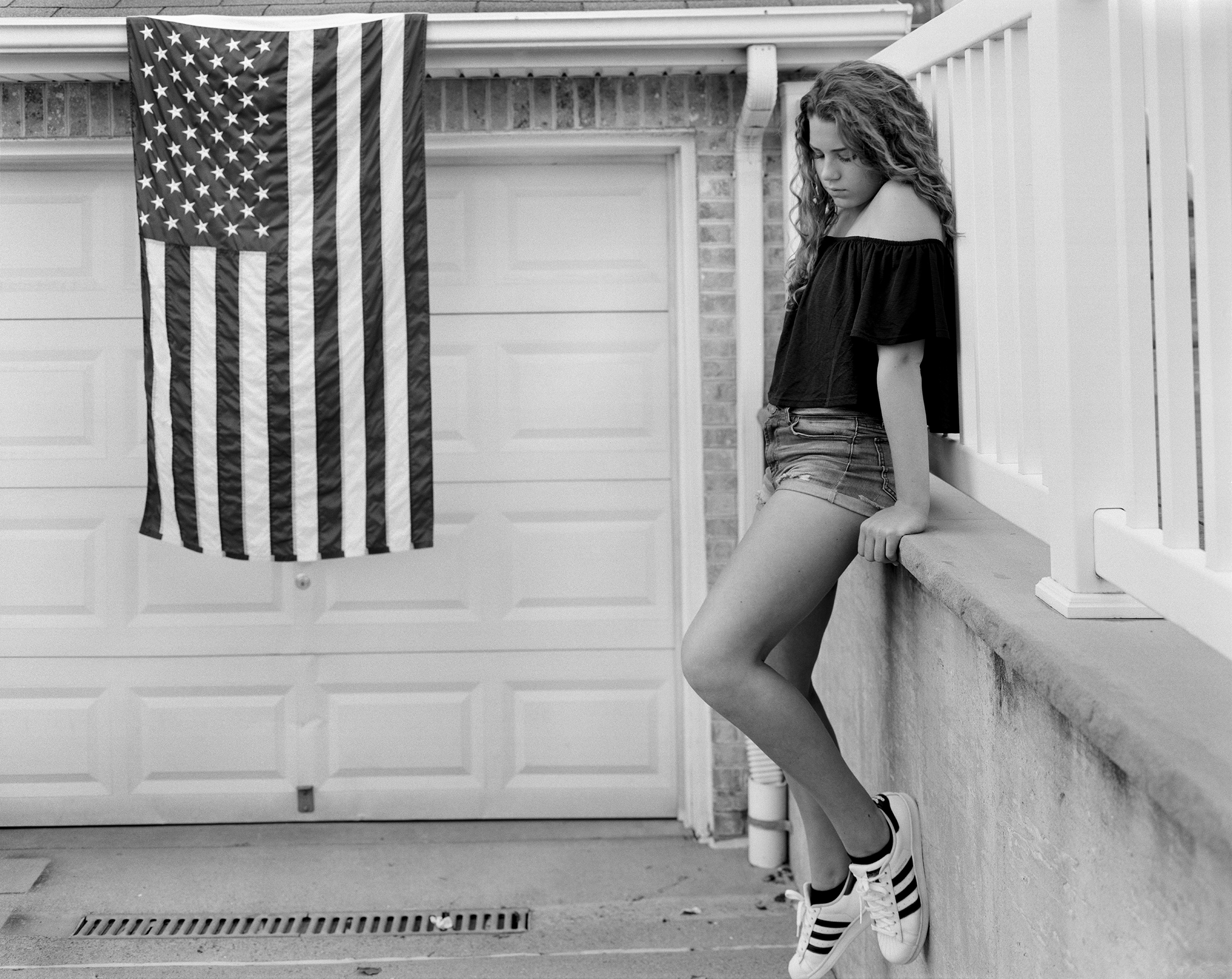 Alexa
Twelve is when my eyes first opened up that I maybe needed different people to hang out with. That some people were trying to grow up too fast. That some people were pretty immature. They were considered the cooler group of people. Everyone tries to grow up too fast and do stuff that someone in high school would be doing rather than what twelve year old girls should be doing. My mom wasn't telling I couldn't be friends with them, but then after awhile, you start noticing stuff on your own.
Hope
I just really like the way I look. I feel that picture is almost breaking stereotypes and I just really like that it's showing a strong girl. It's a really strong pose and as a girl, we don't usually get labelled as strong sometimes. Well, when I think, "girl" I think strong and powerful but sometimes other people think, "Not really strong, can't play sports, can't do a lot of things." But it's not really true.
Medha
I talk with my friend a lot about my relationship with my brother. He's 16. We don't talk anymore. He just stopped talking. I grew up in Katmandu. We were raised by my grandparents so I was together with him there and then when I moved here I was together with him too so it's like we've been together all of our lives. He cared about me a lot and I remember when he cried I used to cry because I didn't like him crying. He doesn't talk that much with my parents either now. It started in 8th grade. It's already tenth grade now and it's been a long time that my parents have had a good talk with him. But I think he's still more closer to me than our parents. I think it has to do with him, his age and he's started to grow older, I guess. I actually think I'm becoming closer to that stage as I have more problems and I am too embarrassed to say them to my mom. I say them to my friend but I'm too embarrassed to talk about it with my mom or dad.
Lola
I am wearing this suit because you know, Hillary Clinton. I was so convinced that she'd win. All of her points just seemed to make sense, like fighting climate change, not building a wall. It seemed it'd be really nice to have a female perspective in the White House because sometimes it's hard to feel heard by a bunch of random guys. I liked her stances on climate change and equality but it was also I just couldn't imagine living in a world where Trump was the president but now I'm living it. I feel like a lot of people will definitely be more cautious and aware for the next presidential election but I really couldn't say when we'll next elect a female president. There's lot of amazing, inspirational women but I'm not sure any of them are really into politics. But honestly, right now what the US needs isn't the best president ever. We need someone who has good motives. They don't need to be flawless. They don't have to be a famous person. They just need to be someone with good intentions who works hard and tries as well as they can.
Elizabeth
I'm trying to look at all sides of the political spectrum. I've only been exposed to Democratic views. My parents are both Democrats. I personally consider myself a Democrat and New York City is so liberal but I started trying to understand all points of view. Every news team has really taken a side, either left wing or right wing. There's no denying it and with so much fake news problems, while they are not direct lies, everything has been interpreted their own way. So I don't know. I'm just trying to get a grip on everything before I start chanting with signs and protesting.
Gloria
What's important to me right now is being able to empathize with other people and understanding what they may be feeling or what affects them. I feel like a lot of people, especially when they are going through a hard age and time, like now, they want to be able to open up to someone, for someone to understand what's happening, and for them to be able to open up and trust them. That's really valuable to have someone you really trust, to have someone you really feel you can trust your real personality with, you know? And that's who I want to be to my friends.
Simone
When I think of myself at 12 years old I think of this little weakling and it kinda of annoys me. Like there were a lot of missed opportunities when I was 12. I was so small and a late bloomer and insecure. I'm still evolving, I'm still young. But now I definitely have a sense of who I am, like I'm not going to let people push me around anymore or let myself down, because I think I definitely created my own misery. So now I am stronger and I'm going to try to not let that happen again.
Saoirse
You want to do everything. You want to be friends with someone. You want to be enemies with the same person. There's drama, artificial drama and real drama and then not-drama and none of it's drama because you're just in 7th grade.
Charlotte
The beginning of this year I joined Model UN and it's totally changed my life. This man, Kativa, he was a Syria refugee and he came to speak about his life and his life story. He REALLY fought for what he believed in. He was tortured and he would still go and express his feeling of the oppression he lived in. After that it just kinda hit me that even though I feel I've been learning so much that I'm learning nothing and I'm doing nothing. I went home and literally started crying because I thought, "I'm not doing anything, I'm not helping anybody and there's nothing I can do and the world is full of problems and what am I supposed to do being in school and what's the point?" And I don't know, even now. I think about what we do in class; we make posters and we hang them around the school but that's not anything on the level that he's done so he's definitely made an impact. One person can't change all of that even though they say one person can change a lot. A twelve year old girl in her school can't do anything about something that grown men and women are trying to do and can't succeed at. So I definitely sometimes do feel really helpless.
Megan
So at my old school I remember in 6th grade my grades were really bad, they weren't terrible but they were on the lower side of average. And I didn't care. Sometimes, I thought that mean jokes were funny and my old friends, when they did things to get attention or did little things to people who were supposed to be their friends, I just went along with it because I didn't know what else to say. If I kept doing that I don't know what would have happened. I'm really glad that I didn't stay.
Isadora
When I went to the March on Washington I felt like I was a part of current events. Maybe in 100 years kids in school will be studying the Women's March like I had studied Women's' Suffrage. I felt like I was doing something powerful and standing for what I believe in. I think it's important to voice my opinion and be a part of her-story.
Elsie
I'm a vegetarian. Except for sausage.
Chloe
When you go on Instagram and you see all of these girls who are my age who have their stomach out and long nails and all that, you feel like, "Oh, I want to do that!" But then when your parents say no you feel like you're not like everyone else. But then you realize that's a good thing because you want to be original.
Betty
It's very, very difficult to stop being friends with someone but remain friendly with them. I know people I was extremely close to and now am not friend with at all. The way that I felt I had to go about that was completely stopping all communications with them. And not looking at them, talking to them, interacting with them at all. And I think that is also a kind of immaturity that I still don't really feel able to properly cut myself off from someone in a mature way. The lack of maturity that I have and the overt immaturely of other people I think has kept me from being able to have mature endings to friendships.
Blue
I would say being 12 is an awkward, fun, exciting, horrible, nerve racking, interesting, and figuring out who you are kind of age. For me, all I wanted was to turn 13 because I would officially be a teenager. Honestly, I'm not sure why I wanted to be a 13 year old. I guess it was that I wasn't happy with the age 12 or the number 12. It's sort of in the middle of child-child-hood and then a jump to a teenager because 11 would be the child-child hood, 12 would be the awkward middle then 13 would be full teenager. All I wanted was to be 13 and get the year over with.
Oona
I've always people have told me that I'm just really out there, which is good. I think it'll be good in the long run. That I'm a lot to handle. Maybe.
Phoebe
I always thought that my future was so far away. But, with that Brett Kavanaugh thing and how it happened back in high school, that just made me realize… it's strange to think, that what happened this Saturday can totally affect what will happen to a person who is, like, middle age, and that is weird to think that now is the point when a big mistake can affect all the way that far away.
Sachary
I sing in church and this year I actually participated in the school talent show, which was fun. I sang this song called Rise Up by Andra Day. And it was quite terrifying considering it was school but I still sang. I was kinda freaking out but I was like, "You can do this! You need to just keep going!" I really wanted to do it for a while and I had friends who were telling me that I can do it, that I have a lot of talent. They were very supportive.
Sylvia
My school goes from 6-12 and I see 12th graders kissing in the halls and it makes me feel kinda uncomfortable so I know that me, right now, I wouldn't be able to be in a relationship and I don't want to be in a relationship. I like romance in books, romance in tv, romance in movies, but I don't like it in real life too much. At least not yet.